Ships and marine transportation are essential to the delivery of manufactured goods and cargo across the world's oceans. In 2016, more than 10 billion tons of cargo was transported by ship for the first time in a single year. In recent years, marine transportation has continued to grow as well. The popularity of shipping is due to it being the most sustainable way to move goods around the world. Per mass of cargo and per distance traveled, studies have shown that ships are the most energy efficient method of transportation.
Since marine transportation is crucial to the global economy and with a rise in seaborne trade, it is important to ensure that the fuels that are burnt in the process harm the environment as little as possible. In 2017, the marine transportation sector burnt around 3.8 million barrels of fuel oil per day, accounting for about half of the world's global fuel oil demand. With such a large quantity of fuel burned and with amassing pollution concerns, there must be an international representation to regulate the safety and security of marine transportation; this is done through the International Maritime Organization (IMO), which is an agency within the United Nations.
IMO is responsible for limiting sulfur emissions from the world's ships. The first sulfur emission regulations began in 2005 at the MARPOL Convention. As global concerns over pollution have increases in recent years, these sulfur regulations have tightened over time. Most recently, IMO 2020 limits the sulfur in marine fuel oil to be reduced to 0.5% (by mass), which the previous limit was set to 3.5%. This change was implemented on 1 January 2020. The IMO 2020 regulations are the largest reduction in sulfur content of a transportation fuel taken in one step, and the impacts of this regulation on the marine fuel market have yet to be determined.
In addition to IMO 2020, marine fuels must also comply with ISO 8217, which is the specification for marine fuels. ISO 8217 sets requirements for marine fuels, and specifies seven categories of distillate fuels and six categories for residual fuels. The requirements consider aspects of safety, the environment, storage and handling, and combustion performance for each category of fuel. For example, ISO 8217 sets limits on the marine fuel's flash point, density, viscosity, cloud point, pour point, carbon residue, and other fuel properties. These limits can be found in Table 1 for the seven categories of marine distillate fuels.
Table 1. ISO 8217 Specifications for Distillate Marine Fuels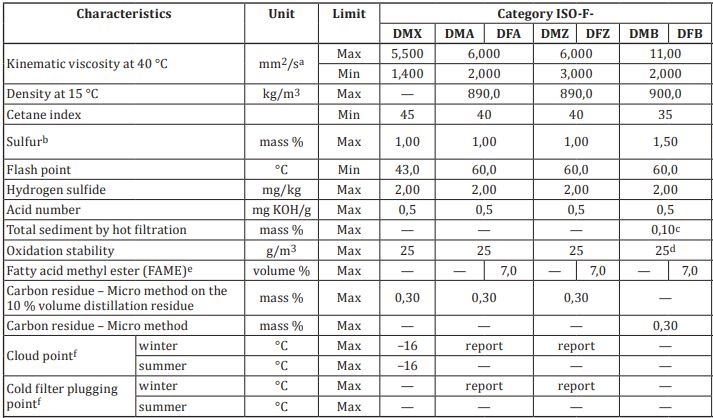 Koehler Instrument Company offers a variety of instruments that conform to the ASTM and related test methods that are outlined in ISO 8217, as well as sulfur content measuring instruments to test for IMO 2020 compliance. Some of these instruments are outlined below.
Koehler's EDX3000 is an excellent solution for sulfur content measurements for IMO 2020 compliance. This instrument delivers rapid qualitative and quantitative determination of sulfur content, and can be used for a wide variety of sample types with its energy dispersive x-ray fluorescence technology. The EDX3000 can also detect the content of other elements such as calcium, zinc, phosphorous, and vanadium, which may be of interest for marine residual fuels.
For marine distillate fuels, kinematic viscosity is measured at 40°C. Koehler offers a fully automatic viscometry system, the U-Visc viscometer. This instrument can be configured with up to two tubes in two separate baths. The U-Visc is capable of producing extremely accurate flow-time measurements, and is convenient to use with completely unattended operation; the operator can process up to 40 measurements per hour simply by filling the sampling tray with a small amount of sample, then running the test through the software. The U-Visc will effectively measure the kinematic viscosity for each sample, and cleans the system automatically with minimal solvent consumption.
The flash point is set at 60°C for all fuels excluding DMX, which is in accordance with the International Convention for Safety of Life at Sea (SOLAS). Fuels with high flash points could potential produce dangerously flammable vapors in the headspace of the fuel tank. Therefore, it is important to ensure the fuel meets the flash point specification. Koehler's K71000 can accurately measure the flash point of marine fuels in accordance with the Pensky-Martens closed cup method. K71000 is fully automated and conveniently operated through a simple integrated software, and is equipped with various safety features.
The cloud point, pour point, and cold filter plugging point (CFPP) can indicate issues with low temperature operating conditions. Operators should ensure that the cold flow properties are appropriate for the environment and equipment being used. In low temperatures, solidified wax may be deposited in fuel tanks, fuel lines, and other important components. To determine the cloud and pour points, the K77000 is a state of the art instrument that utilizes optical detection to determine the cloud point and the automatic tilt method for the pour point. K77000 is fully automatic with exchangeable cloud and pour point heads, and uses an internal cooling system, all that can be controlled through an integrated touch screen.
Lubricity is a common point of discussion for fuels with very low contents of sulfur. Fuels with poor lubricity can eventually lead to damage within the fuel delivery system. For ISO 8217, the lubricity specification is only applicable for fuels with sulfur contents below 0.050% and is determined by the wear scar measurement as per ISO 12156-1, with the High Frequency Reciprocating Rig (HFRR). Koehler offers a market leading HFRR with advanced technology. Koehler's HFRR can produce consistent and accurate measurements of the wear scar, resulting in improved understanding of the fuel's lubricity.
The products listed here are only a portion of what Koehler offers for IMO 2020 and ISO 8217 compliance. Please contact Koehler for more information regarding your marine fuel testing needs.
References
www.imo.org/en/MediaCentre/HotTopics/Pages/Sulphur-2020.aspx
www.woodmac.com/nslp/imo-2020-guide/
www.iso.org/standard/64247.html
www.ibia.net/iso-statement-on-the-iso-8217-standard-in-relation-to-0-50-sulphur-fuels/
Cover photo credit: Shutterstock